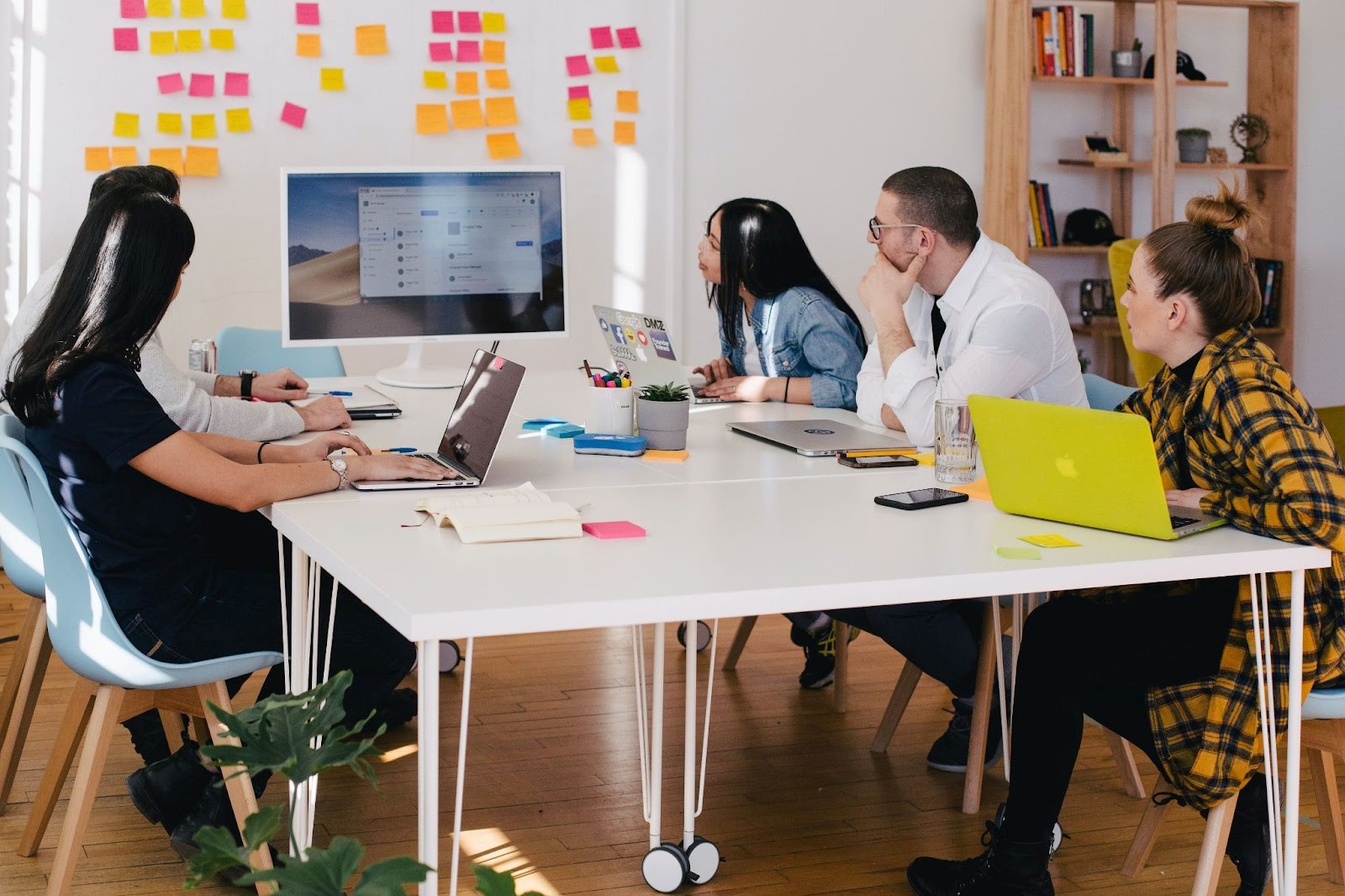 5 tips for your hotel digital marketing strategy
Want a helping hand to get your hotel digital marketing strategy off the ground or check that your hotel is on the right track? You've come to the right place! 
Today, the majority of travelers research and book their stay and accommodations online. So, be where your potential customers are looking for you to maximize your chances of gaining direct bookings. Building a solid marketing strategy is key to better market your rooms online. 
Here, we detail for you our 5 essential tips to increase the visibility and revenue of your establishment in an efficient, transparent and cost effective way.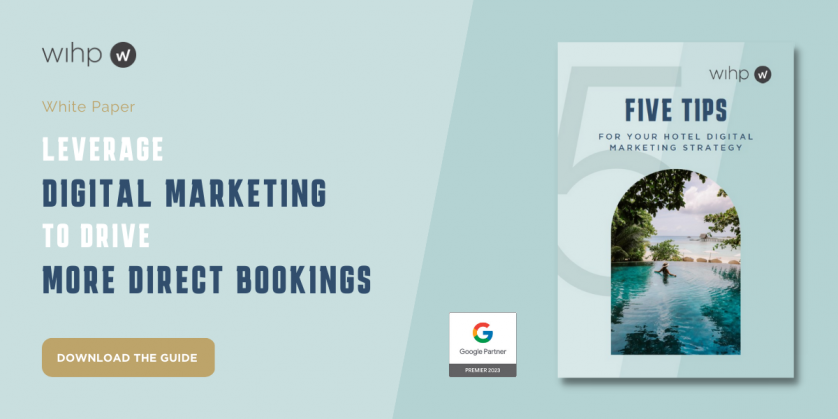 A website to your image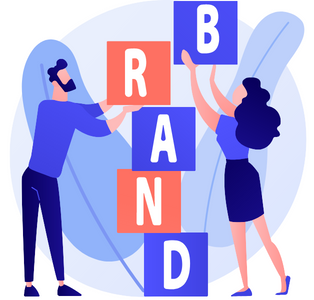 In order for your website to reflect your image, you must conduct a market study to comprehend the visual identity of the sector and of your competitors. 
Identify the channels you will favor and the visual identities of other brands that inspire you (not necessarily hotels). Then, define your target customers and buyer persona to build a brand image that also fits them.  
Then, choose the three adjectives that best describe your hotel to draw the essence of your property. Based on the previous work, define your values and positioning, your expertise and your competitive differences if possible. All this constitutes the pillars of your hotel's unique identity that will be reflected in your website. 
In a third step, you must choose two to three colors maximum according to their symbolism (white for finesse, blue for serenity, etc.) and the emotions you want to convey. Proceed in the same way when choosing the typography. If you choose several, up to a maximum of three, think about their complementarity and visual harmony. Linear fonts give a modern image (e.g. Castelbrac hotel), serif fonts give a classic image (e.g. Les Vallons de Valrugues hotel). 
Then, it's time to choose the icons and pictograms, the campaign visuals (advertising banners, photos, etc.) and the logo with shapes that correspond to the brand image of your establishment. All these choices must be coherent, harmonious and follow the same reflection as a guideline, it is an important step, regardless of your typology (independent, chain or group). 
Finally, these visual choices enlightened by your identity and the construction of your brand image in a thoughtful way will allow you to elaborate the graphic charter of your hotel and to make the necessary declinations by online and offline support, including your website. 
Be visible on search engines
Organic referencing or SEO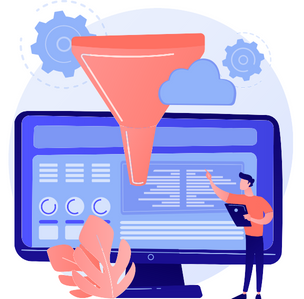 SEO (Search Engine Optimization) corresponds to the techniques to improve the position of your website on the search engines results pages following the queries of Internet users. The goal is to appear on the first page displayed by search engines, like Google, when a traveler makes a search related to your hotel.
You can optimize the organic referencing of your website, in particular thanks to its content and its technical settings. 
SEO settings of your hotel website
One of the most important parameters of your website is the SEO, so that your site always appears in the first position of the organic search results page on your hotel name. For this you need to perform the following actions:
Setting up title tags and meta description tags: the title tag is the name you give to your web page (60 characters maximum). The meta description is the description of your pages, under the blue links of the results.
Setting up pointing from the old domain name to the new website in order not to lose traffic and to keep your referencing on search engines.
Choice of languages to be inserted to cover the maximum of markets in adequacy with your clientele to offer relevant contents to the search engines.
URL translation: it is essential to translate and perform a 301 redirection of your website URLs in the main languages spoken by your (future) customers so that your hotel website will appear in the search results of the targeted markets with the reference language.
Optimization of the content of your website 
Your website must be regularly updated, both in terms of content and technical aspects. Here are 5 tips to optimize your marketing content strategy:
Keywords and tags: use keywords and Hn title tags in the hierarchy of your content.
Rich results: keep your hotel's prices, availability and reviews up to date, especially on your Google Business Profile, to feed the "rich snippet" (additional information under the meta title / description of the result).
Optimized images: use light and well renamed images, with alternative text.
Backlinks (referral): hypertext links on anchors (or keywords) that you will have defined according to their relevance to your activity. Backlinks are present on third party sites, such as a partner, and refer to your site. 
Structure: the structure of your site must be clear and well organized, so that search engine robots can easily understand the content of your pages. 
Paid referencing or SEA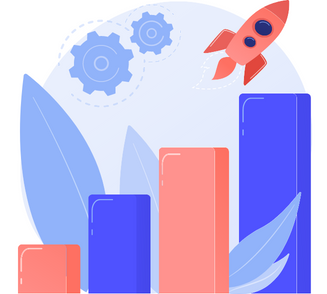 Search Engine Advertising (SEA), or paid referencing, consists in buying sponsored links on search engines such as Google, Bing, Yahoo, with a keyword targeting.
SEA campaigns, also called Google Ads, are adverts that precisely target Internet users based on several criteria (browsing history, location, device, demographic data, etc.). 
For a hotel owner, these Google Ads type of campaigns are interesting because you will generate more qualified traffic on your website. In the end, this allows you to increase your direct sales.
Types of SEA campaigns
The advantage of a paid search campaign is the increase of the immediate visibility of your hotel on search engines. The SEA also allows you to get qualified traffic for your website and acquire new potential customers. 
There are 3 types of campaigns with 3 distinct objectives: 
Brand protection: protects your brand name against those who bid on it, like competitors or OTAs. These campaigns have a high profitability because you capture highly qualified Internet users who are actively looking for your hotel.
Generic: allows the acquisition of new customers by increasing the popularity of your hotel in your destination and/or your attributes. It is about bidding on broader keywords such as "Hotel Spa in Paris". You will be able to appear at the top of the Google results, with travelers looking for their accommodation.
Display advertising: banners that appear on selected sites or partner sites of the search engine. Display campaigns can be used for remarketing or to develop the reputation of your hotel.
The functioning and types of bids in search ads 
To appear in the form of an ad, you must choose the keywords for which you want to appear. Then, you have to create an ad, which the traveler sees once their search is done.
It is possible that several companies are positioned on the same keyword. The ads will be classified according to several criteria, the user will see different ads.
Google Ads works on a bidding system, we distinguish 2 major ones:
The smart bidding strategies: The amount of the bids is chosen automatically by the algorithm according to signals emitted by the Internet user (geographical area, time of the request, browsing history, etc.).
Manual bidding strategies: Bids that you define entirely yourself. You get more granularity but these bids are less personalized to the user.
Google advises the use of smart bids in order to offer your ad at the best time to the user.
Download our guide
This was an excerpt of our guide: learn how to leverage hotel digital marketing, crucial to increase your property's direct bookings:
Get a website to your image
Be visible on search engines
Have an efficient hotel website
Be present on metasearch 
Track the performance of your website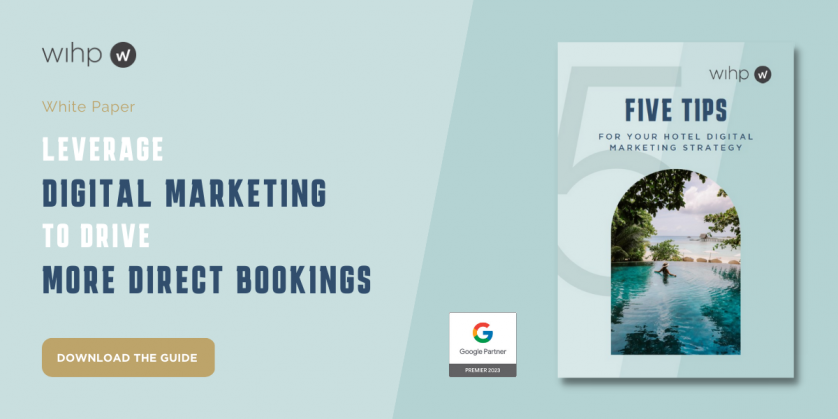 Conclusion
All in all, with these 5 hotel digital marketing tips, you are ready to build or adjust your marketing strategy according to your hotel and your online revenue goals. 
A clear and consistent brand identity, a site designed to generate bookings, an effective SEO strategy and a presence on metasearch are the main keys to your online direct marketing success. 
Once this winning combination is in place, monitoring your results will allow you to maintain your revenue performance and in the medium and long term, increase your direct bookings. 
WIHP can support you in setting up your digital marketing tools and increasing your direct revenue: contact us!