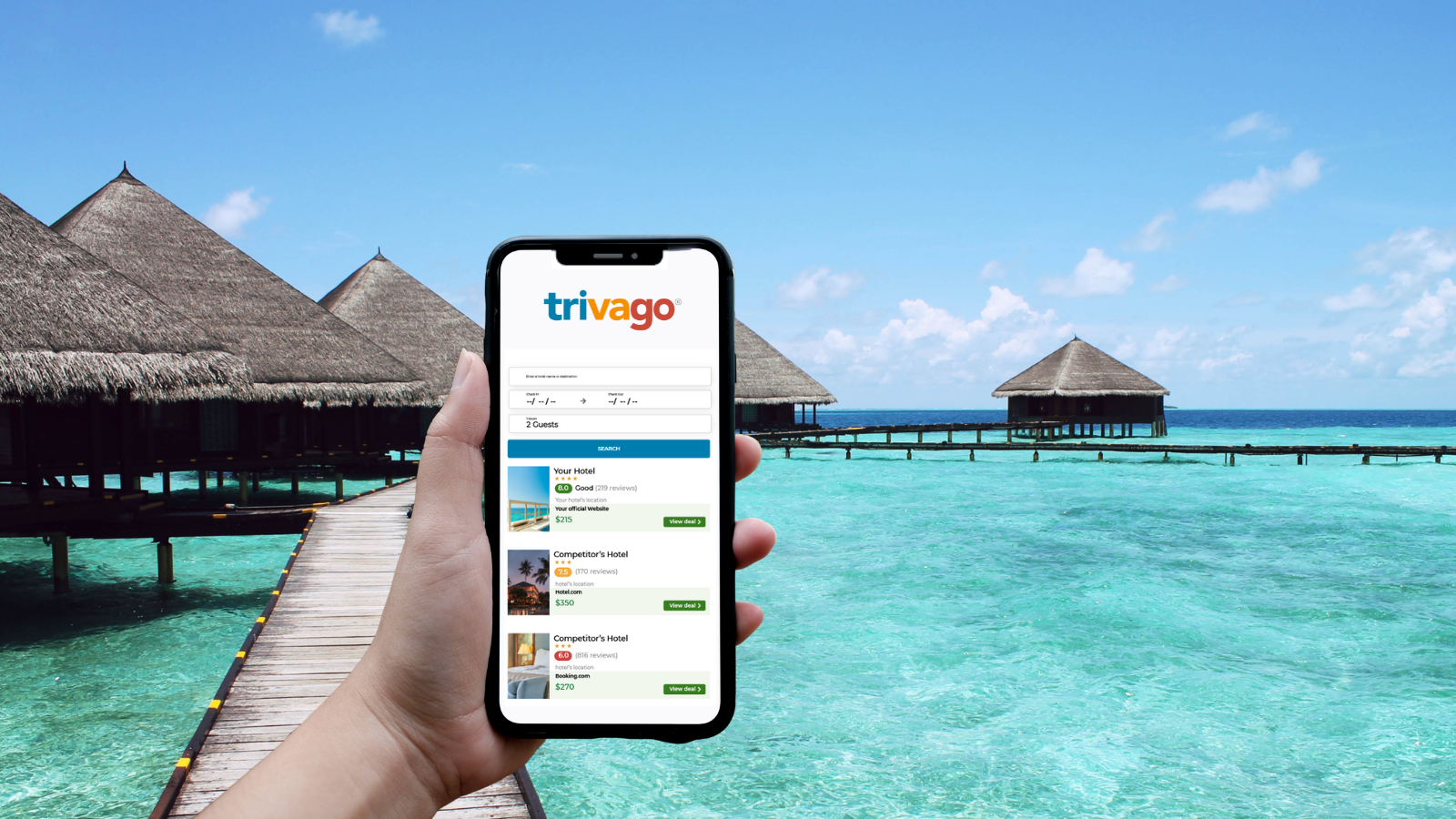 Exclusivity: trivago in net commission available in Meta I/O
You've been waiting for it, trivago and WIHP have done it: trivago's net commission bidding model is now available worldwide exclusively on our metasearch manager Meta I/O! 
It is needless to say that metasearch (or price comparison sites) have become a must in the promotion of your direct room rates and your hotel website. 
trivago hotel offers travelers the possibility to compare offers from different players, for the same hotel. Thus, the internet users choose the ideal hotel room while being assured to benefit from the best prices available according to the hotel, the period and the duration of their stay.
In this article, we'll take a look at this new bidding method available on trivago and the benefits for your hotel. Let's get started!
WIHP Exclusivity: trivago on commission via Meta I/O
What is the net commission bidding model?
This bidding method, also known as net CPA (Cost per Acquisition), is similar to the commission-based payment system used by OTAs. The commission is net of cancellations and no-shows and the payment of the commission is made after your customer's stay. 
On trivago, you can adjust your commission rate (fixed percentage of the room rate) based on the minimum commission rate applicable per market, which you pay only when a traveler books a hotel room through your listing. The net commission model allows you to run campaigns on trivago on a purely performance basis.
The meta-engine redirects the user to your hotel's official website. With this net commission model, you are guaranteed a fixed return on ad spend on trivago.  
The gross CPA (or gross commission) bidding method
Gross CPA, or CPA at time of purchase, allows you to set a commission amount with trivago and the algorithm automatically adjusts your position based on your commission rate. It optimizes the bidding and guarantees the cost of distribution of your campaigns. Commissions due are based on the customer's booking date, and not on the client's date of stay.
Gross CPA allows you to manage your campaigns in a simple, performance-based way while accessing a certain level of detail.
Exclusive to Meta I/O: Net CPA (or net commission)
Net CPA or CPA by date of stay, allows you to manage your trivago campaigns on a performance basis with trivago billing based on the date of the customer's stay. So, if a traveler books in December to stay at your hotel with a check out date in January, you will be commissioned in February. This method allows you to report cancellations and no shows to trivago. It is available exclusively on our metasearch management platform Meta I/O. 
This guarantees you a low cost of distribution, provides you with additional security and offers you cash flow facilities in the direct distribution of your hotel.
What are the trivago commission rates?
The commission bidding models (gross CPA and net CPA) are automated. CPA campaigns are easy to manage and guarantee your distribution costs. Note that you need to run the campaigns for at least two weeks before you can assess the results while the algorithm adjusts. 
trivago offers several net commission rates (or Net CPA). trivago's net commission rates start at 4,8% (varies by market). You can modulate this rate by increasing the percentage as you wish depending on the market. 
So you don't need any expertise and it doesn't require much management time. The only thing you have to manage on this type of campaign is the adjustment of the commission rate by adding between 1 and 5 points to the minimum commission rate per market. Indeed, on price comparison sites and contrary to OTAs, you can modify the commission rate of your campaigns. 
The goal is to find the balance between the commission rate you are willing to pay and the visibility rate you want to reach.  For example, in France, if you reach a visibility rate of 65% with the minimum commission rate of 6%, then you can decide to increase it to 7% or 8% to reach a higher visibility rate. 
Please note that the minimum Net CPA will be 20% higher than Gross CPA: so, if you have a 5% Gross CPA it will turn into a 6% Net CPA but you will only get charged for the guests who stayed at your hotel. You can see this as a guaranteed investment, because as previously mentioned, the net commission ensures a controlled distribution channels cost, a stable return on ad spend and cash flow facilities.
What other bidding methods are available? 
Cost per click (CPC)
With cost-per-click or CPC, you pay a set amount each time a user clicks on your offer in the price list on the metasearch page to be redirected to your hotel website. 
In short, with CPC, each click generates a cost for your hotel and you only invest in the traffic that the metasearch advertising brings you. The more you bid, the more your hotel will be displayed at the top of the suggested offers' list to travelers.   
Manual CPC bidding allows for a higher level of granularity but requires more involvement from you in managing the campaigns to obtain the best return on investment possible.
What are the advantages of metasearch like trivago for my hotel?
Stay competitive with OTAs
Metasearch platforms are open to everyone, and online travel agencies (OTAs) do not hesitate to use them to promote the hotels that use their services. Your rate offers are therefore displayed alongside those of the OTAs, in the list of hotel price comparators. 
Meta engines offer you the opportunity to compete with the big OTAs and significantly increase your share of direct bookings. Even just showcasing your official website will help you get more bookings. Then, the best way to stand out is to offer a better rate with competitive advantages (free breakfast, last minute offer, gift box, etc.).
However, travelers are attracted by the best offer and want to book at the best price: it is essential to offer your rooms at the best rate in order to be as competitive as possible.
Increase your revenue
Metasearch accounts for up to 30% of a hotel's direct bookings! 
They improve your hotel's referencing and give more visibility to your rate offers, which optimizes your conversion rate. All the advantages of using price comparison sites contribute to the development of your turnover. 
By being present on metasearch engines, you can greatly increase the traffic on your hotel website and your direct booking rate. Indeed, once a user clicks on your rates on your metasearch page, he is instantly redirected to the booking page of your website.
By increasing your visibility to ready-to-book travelers, and by redirecting these potential customers to your booking page, metasearch help increase your revenue. Typically, travelers arrive on your site with a strong intent to book. This means that you are most likely to receive highly qualified leads. 
Conclusion
You can now launch commission-based campaigns (net CPA) via our Meta Search Management Platform Meta I/O. This bidding method is perfect if your goal is to guarantee a constant ROI: increase your visibility on all available markets, without being an expert in metasearch acquisition. 
However, it is up to you to define the strategy that best fits your business. You can combine manual and automated strategies to find the right performance balance to achieve your goals. For example, switch from one model to another depending on the seasonality of your hotel's distribution or run CPC campaigns in your primary markets and commission-based campaigns in the rest of the world. 
Meta I/O allows you to manage your trivago and other metasearch campaigns from a single interface: launch campaigns, adjust bidding strategies, and track your performance from one simple and efficient environment. Don't hesitate to ask our specialists to help you manage your campaigns. In any case, you'll benefit from a support team at the customer service department. 
We are here to help you achieve your direct distribution projects, contact our team of hotel digital marketing experts.