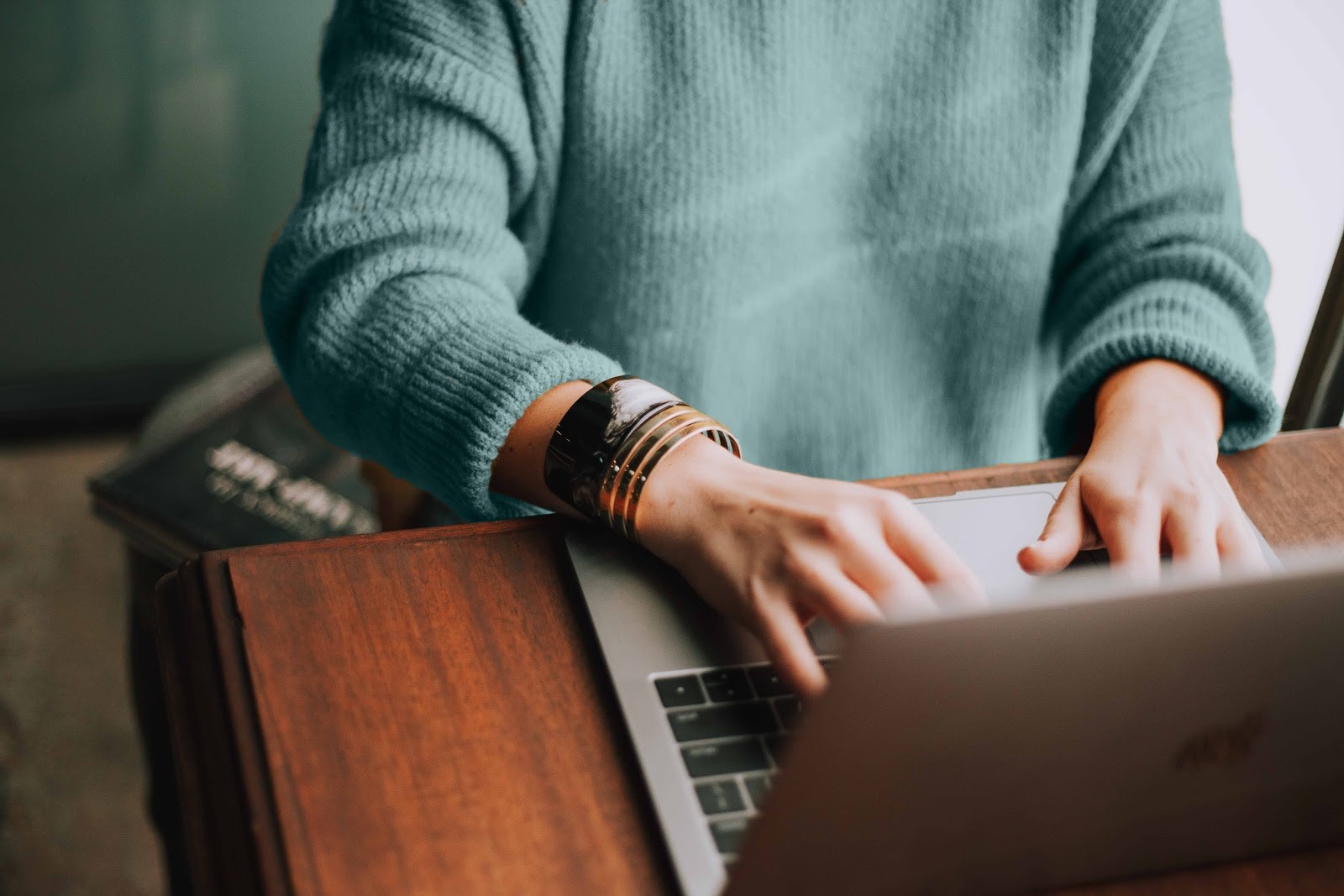 Running a metasearch campaign for your hotel
Metasearch engines are used extensively by travelers preparing their trips. Posting your rates on metasearch will give you greater visibility and increase direct bookings on your hotel's website by up to 30%!
A metasearch site is a price comparison tool. It lists hotel rates according to criteria such as destination, room price or the number of stars the hotel has. Google Hotel Ads, Trivago, Kayak and Tripadvisor are some of the metasearch platforms you can use to quickly and easily attract more customers to your establishment.
To be able to exploit metasearch to their full potential, you need to understand the recurring concepts that enable you to navigate these platforms. Here's a metasearch lexicon and the keys to a successful campaign.
Metasearch glossary
Metasearch campaigns
Metasearch campaigns represent all the ads promoting your official rates on the various price comparison sites. This is an important channel for reaching a ready-to-book audience and increasing your direct bookings, without using OTAs. So, by advertising your hotel on metasearch, you'll greatly boost your traffic acquisition to your website and convert more travelers.
Ads
When an Internet user performs a search on Google, two distinct elements appear: organic search results and advertisements. Ads are part of Google's advertising programs. They are sponsored links that appear at the top of the page, usually before the organic search results.
In Google Hotel Ads, ads (sponsored links) are the links that appear in your Google Business Profile (formerly Google My Business), under the "Compare prices" selection.
These links redirect to booking pages called landing pages.
So, for your hotel, you can use this type of ad to display your website's rate on the dates selected by web users, with the mention "official site".
For price comparison sites like Tripadvisor and trivago, ads work in the same way, with dynamic rates displayed on your establishment's page.
trivago display (left) / Tripadvisor display (right)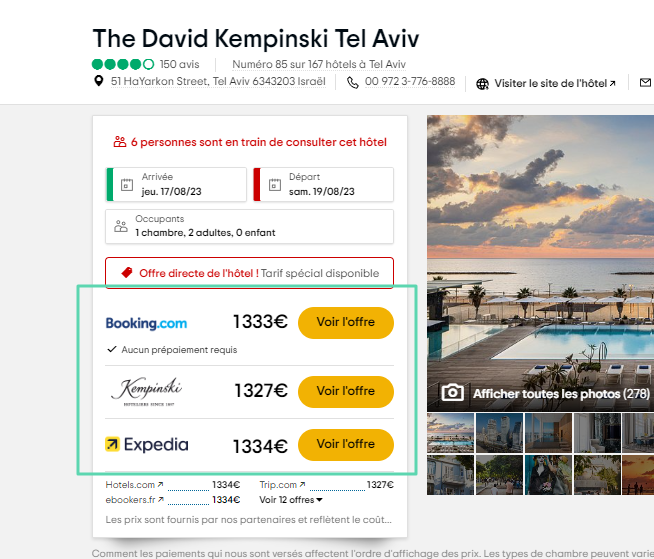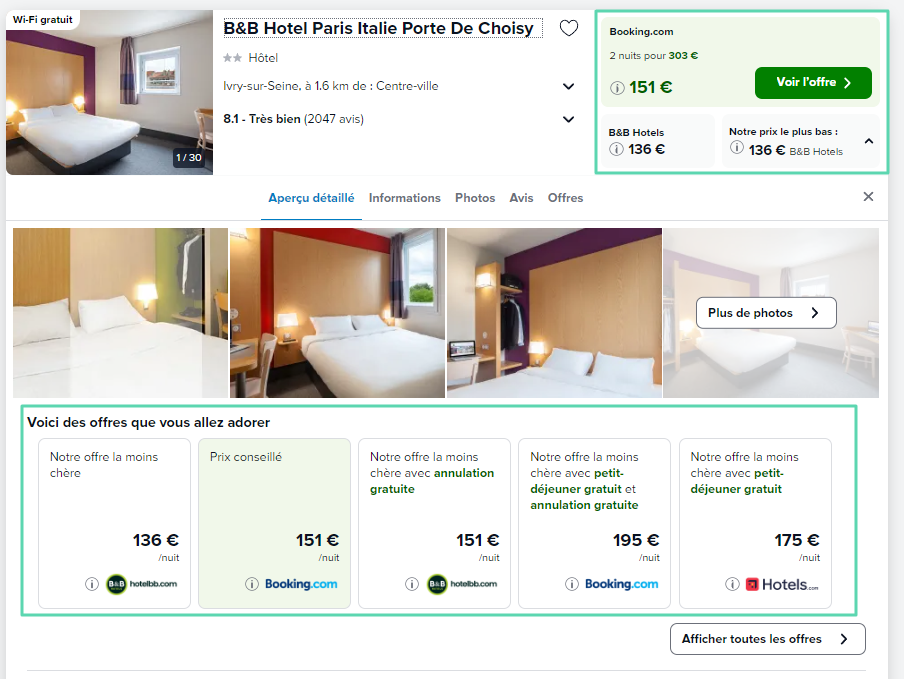 Google Free Booking Links
Unlike previous booking links, clicks on Google's Free Booking Links are free: they are available at no charge. These free links will also display similar information with your establishment's rates based on the stay selected by the traveler.
When a traveler performs a search, the results page will first display ads (paid booking links classified according to an advertising auction system). Free booking links will then appear, ranked according to their usefulness to the traveler making the search.
Google Free Booking Links under "All Options"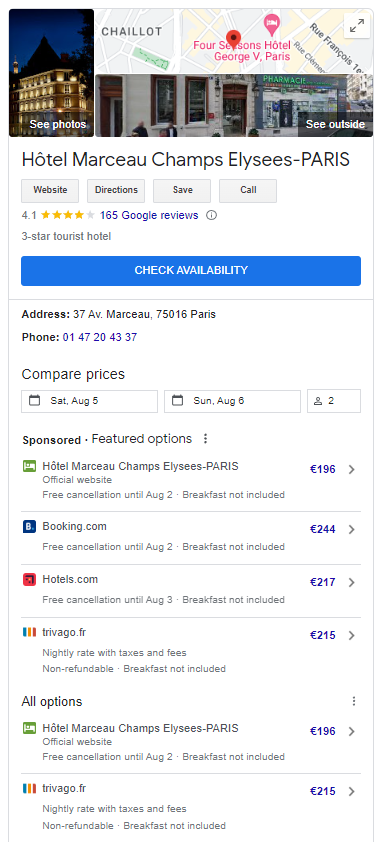 Also, trivago launched its Free Booking Links this year for hotels. These are totally free links that enable independent hotels to promote their rates on their official website, only for those who do not run paid ads on the trivago price comparison service.
Trivago Free Booking Links are currently available in Finland, France, Germany, Ireland, Italy, Spain, Sweden and the UK. Unlike Google Free Booking Links, there is no separate section for free and paid links. As such, they will appear as a normal "hotel website" direct channel ad.
Finally, trivago FBLs appear after the 3rd position in the list of search results. If your official website offers the lowest rate, then it will reach the 3rd position, which is the spot reserved for the lowest price.
Auction models
Biddings determine the ranking of your ads. There are several bidding models available on price comparison sites. With each new request from web users, the display of your ads, and therefore your official site rates, will be in competition with other advertisers (OTAs).
Below you'll find all the bidding models available on the various price comparison sites:
Cost-per-click (CPC): payment is made when the traveler clicks on your ad.
Cost-per-conversion or cost-per-acquisition (CPA): a pre-set commission rate that you pay only when the traveler books a room in your hotel.
Commissions per stay: you pay only after your customer has stayed with you. With this bidding method, you can declare no-shows and cancellations, so you don't have to pay commission on an unfulfilled stay.
Landing page
The landing page is the booking engine page to which Internet users are redirected when they click on your ads.
Metasearch campaigns redirect all traffic to your booking engine, with check-in/check-out information and the number of people pre-registered to facilitate booking. This makes it easy for Internet users to make a reservation directly on your booking engine.
Example of a landing page on Google Hotels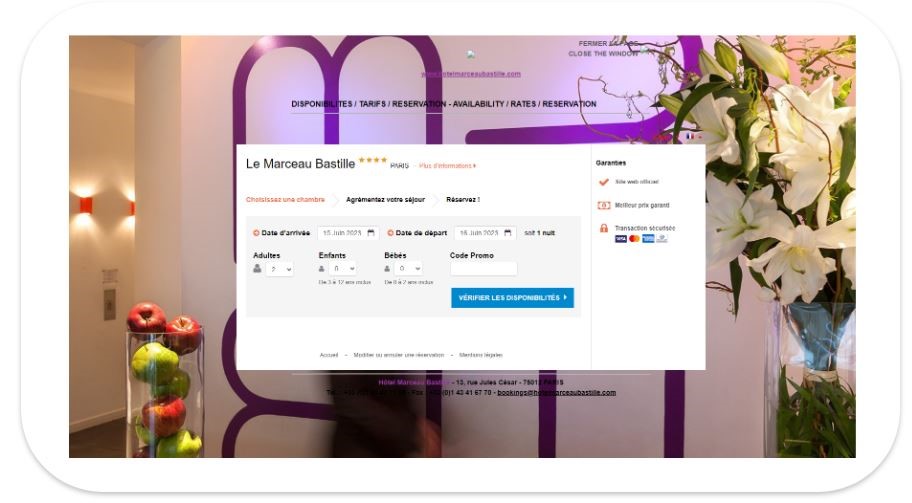 What market share for metasearch?
Today, 72% of Internet users use metasearch as part of their purchasing process. Positioning yourself on this channel can therefore be a very interesting way of increasing your direct revenues. They become a new source of traffic, enabling hoteliers to use them as a showcase to display their rates to Internet users. Indeed, traveler behavior is evolving, and since the pandemic, new parameters have to be taken into account by hotels to better sell online.
From research to booking, most travelers use the Internet to organize their stay. We're also witnessing a gradual shift in travelers' preference for booking on the hotel's official website. Take advantage of this trend to continue maximizing the promotion of your direct rates and your hotel website to stay competitive with the OTAs (Online Travel Agencies).
Finally, 53% of travelers are spending more time looking for the best price than they did two years ago. So offering a rate that competes with other retailers on metasearch is a decisive factor for your hotel.
There have also been a number of digital innovations in the hotel and travel sectors. Google Hotel Ads, launched by Google, continues to develop and thrive, with the introduction of Free Booking Links in 2020 and the launch of Google Performance Max for travel goals in 2023, for example.
How to run a successful metasearch campaign
To benefit from all the advantages that metasearch has to offer, you need to be able to run an effective campaign. That's why it's important to define your objectives and your budget, so as to establish an effective strategy that matches your business. Here are a few tips for running an optimized campaign.
Be present on more than one metasearch
It depends on the budget you choose to allocate to metasearch campaigns, but it goes without saying that the more you are present online, the more likely potential guests are to come across your hotel. There are, of course, the best-known and most widely used metasearch platforms, such as Tripadvisor, Google Hotel Ads and trivago, but don't forget Kayak and Skyscanner, which can play just as important a role in helping you gain notoriety as the bigger metasearch platforms.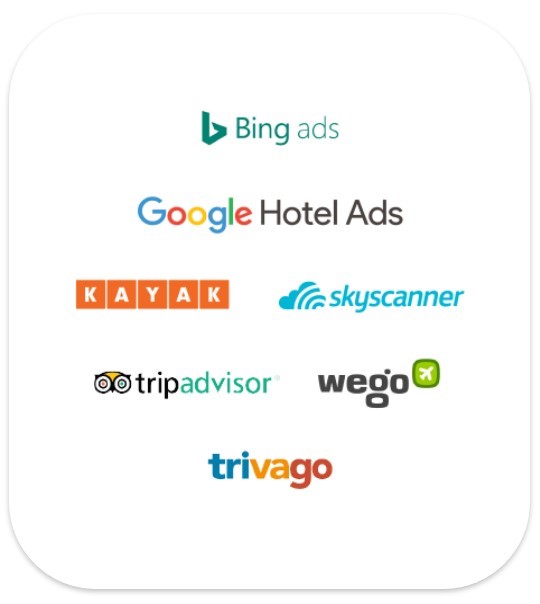 Each platform has its own specific features, although they remain very similar. For example, when it comes to geographic targeting, Kayak is more likely to operate in North America. Taking this into account, you can decide to adjust your strategy to remain as relevant as possible on each hotel metasearch engine on which you want to appear.
So, while adopting a one-size-fits-all approach may save you time in the short term, it won't always be the most effective. You can adapt your pricing strategy with the bidding models you wish to use until you find a balance that maximizes your return on investment (ROI) and return on advertising spend (ROAS).
Last but not least, to guarantee your presence on metasearch, make sure you create a complete and up-to-date business listing, listing all your services and relevant information. Each metasearch platform has its own registration procedures, so it's best to check each one individually. Then send them your rates and availability so they can promote your rooms.
Measure the effectiveness of your campaigns
Once your metasearch campaigns are up and running, it's time to measure their impact so that you can adjust them according to your objectives. There are a number of metrics for this purpose, and here are a few that may be worth tracking:
Impression rate: gives you an idea of how visible your metasearch campaigns and rates are. The closer your impression rate is to 100%, the greater your visibility.
Conversion rate: shows how many visitors who have made a reservation on your website have done so thanks to a metasearch campaign you've launched. In other words, it shows how many prospects you've turned into customers. You can then compare your different campaigns to see which ones work best, analyze these results and optimize your campaigns.
Click-through rate (CTR): this indicates the percentage of users who clicked on your ad among those who potentially saw your ad on metasearch. The higher the CTR, the more users have clicked… and therefore the more interested in your ad!
Once again, the choice of KPIs to track will depend on your objectives. There's no one right approach: every hotel can adopt a different strategy and still achieve good results. Make sure you tailor your strategy to your expectations and your hotel.
Offer the best rate
Travelers who visit metasearch do so with a view to finding the best service for the best price. Offering the best rate will help you stand out from the competition and attract more customers to you. So, in addition to positioning your ads at the top of the metasearch results, you'll be sure to be the most competitive in terms of price.
Once on your site, it's a matter of converting these travelers into customers. You need a high-performance website to keep visitors on your pages: quality photos that show off your establishment and your rooms, clear and visible calls-to-action, up-to-date information and a smooth customer experience.
Conclusion
Promoting your hotel and your official rates on metasearch is the first step towards increasing your revenue.
Hoteliers have a vested interest in exploiting the various metasearch platforms to continue attracting new customers. This trend received a boost in the wake of the pandemic and continues to grow.
At WIHP, we support hotels in developing their websites and implementing digital solutions to increase their direct bookings. We'd be delighted to hear from you. Visit our website to find out more about our solutions, or contact us.