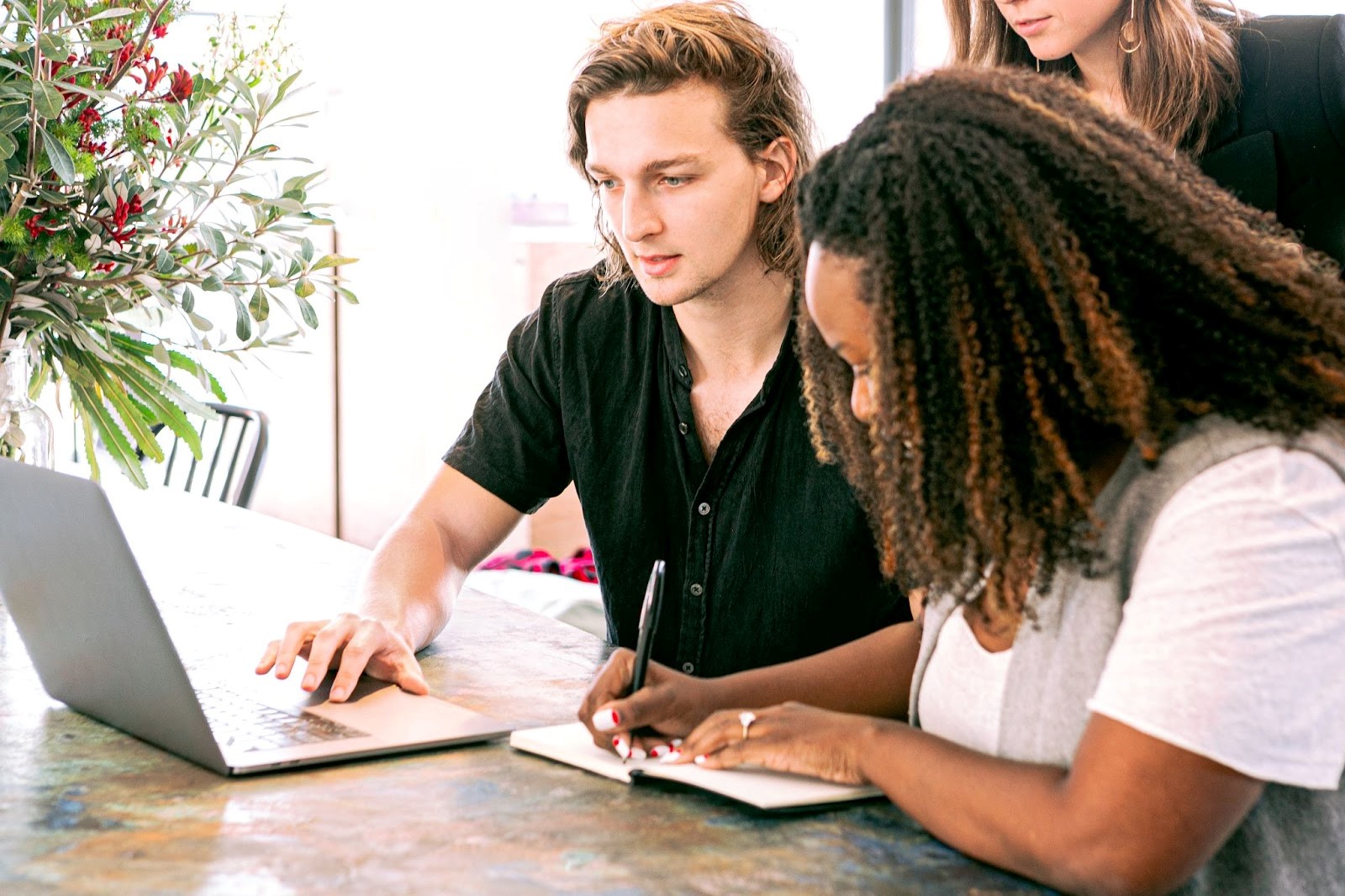 Successfully marketing a hotel opening
When it comes to opening a hotel, a successful marketing plan is the key to standing out from the competition and attracting customers by building a solid reputation right from the start. 
Opening your establishment is a unique opportunity for you to generate buzz and create a solid base of loyal direct customers. However, this requires careful and thoughtful planning in order to adopt an effective marketing strategy that highlights your strengths and uniqueness. 
In this article, we take a look at the essential elements for a successful hotel marketing strategy when it opens.
What's involved in marketing a hotel?
Understanding the issues surrounding the commercialization of your hotel is essential to its successful opening. It's the key to maximizing your hotel's visibility and attractiveness, so you can reach your target audience and attract potential customers directly. 
Stand out from the crowd
The hotel industry is often highly competitive. Grabbing the customer's attention in a competitive market can be an arduous task. Differentiating yourself from your competitors is therefore essential if you are to succeed in the eyes of travelers. 
This can be achieved through a strong brand image, excellent customer service, the services you offer or promotional offers. In this way, you'll be able to position yourself uniquely in the market. 
Assert your hotel's online presence
Today, everything is done via the Internet. It's important to have a strong online presence to promote your establishment and gain popularity among travelers. 
That's why it's become essential to establish online marketing strategies, including Search Engine Optimization (SEO) and Search Engine Advertising (SEA), digital advertising, campaigns on price comparison sites, social media presence, online reviews and an attractive hotel website. 
These are the elements that will help you build a good online visibility and e-reputation, and help you convert more travelers directly, without going through OTAs. 
Anticipate changing customer expectations
The expectations of travelers and your customers are constantly evolving according to seasonality, the societal context, market trends and so on. So it's important to understand and adapt to their changing needs.
There are many factors to consider in your marketing strategy: feedback on the customer experience, current market trends, the season, the technology at your disposal, the services you offer.
Indeed, guest satisfaction is essential to the success of your hotel. Understanding their expectations and knowing how to anticipate their evolutions will enable you to respond quickly to their requests and concerns. 
The aim is to offer a perfect guest experience throughout their stay with you, and even after they've left, in order to build loyalty both online and offline.
Use the right distribution channels
There are many channels on which to market your hotel, such as online travel agencies and metasearch. 
It's important to choose the most appropriate channel for your hotel and to maintain your presence and visibility on it. We'll go into more detail in the next section.
By understanding the issues surrounding your hotel's marketing, you'll be able to maximize its visibility and reach your target audience. You'll be able to handle the competition, optimize your resources and anticipate potential problems that may arise when opening a hotel. Thus, you can lay the foundations for a prosperous long-term business.
What is your hotel's marketing strategy?
Once you've understood the challenges of marketing, you can opt for a more effective strategy to ensure the success of your hotel business. Several factors come into the equation when it comes to establishing a strategy tailored to the success of your hotel opening.
A high-performance hotel website 
Your hotel website is an essential part of your business strategy, as it will have a major impact on the number of rooms booked directly. 
So it's vital to create a site that's attractive and effective, both in terms of content and aesthetic, to grab travelers' attention and encourage them to book directly on it. 
First and foremost, the branding and design of your hotel website is essential to creating a strong identity and attracting customers to you. It needs to reflect your hotel's identity to travelers and web users likely to book with you.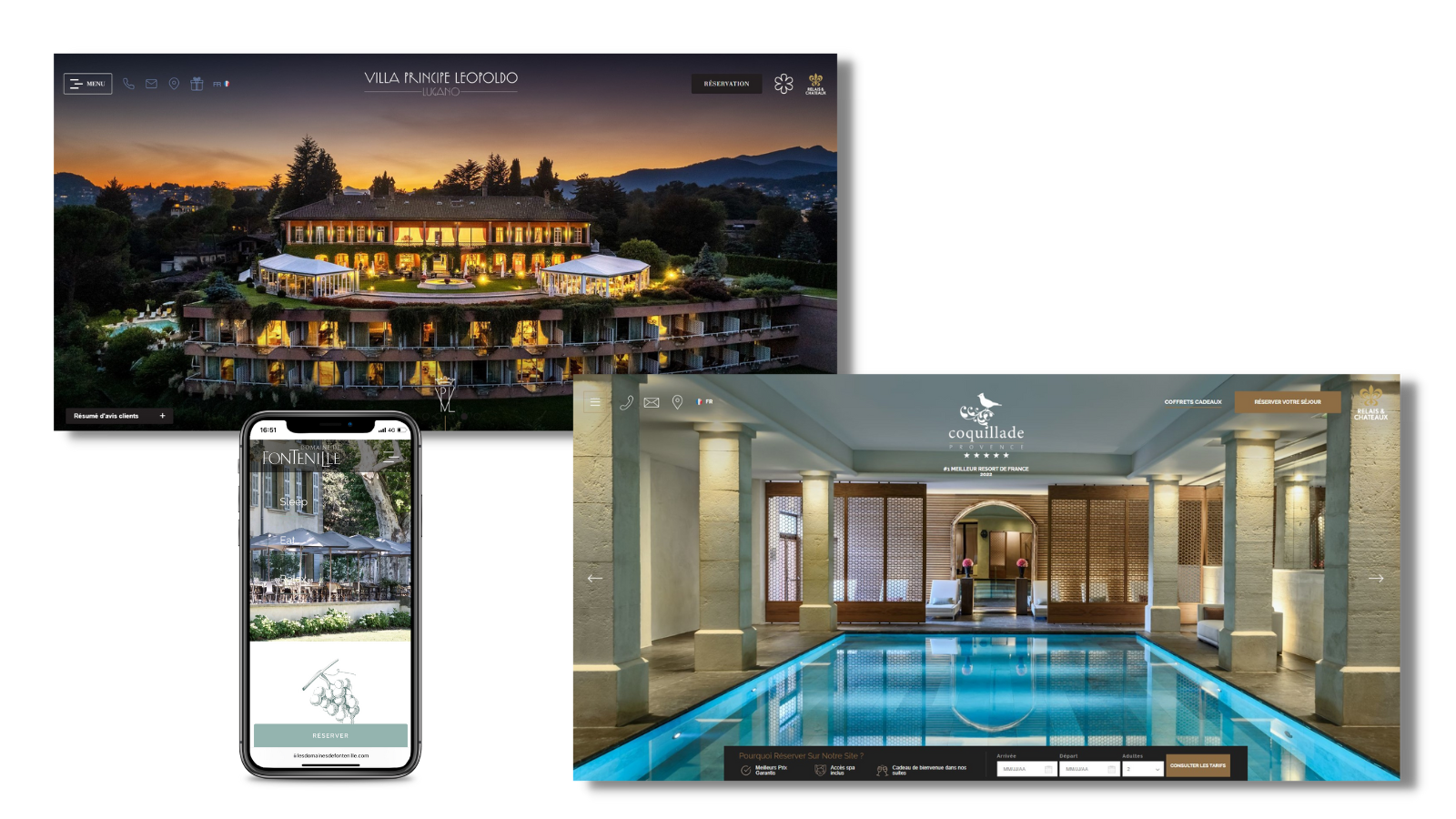 There are many elements to consider in your hotel's brand identity: 
Create a distinctive, easily recognizable logo and design that well represent your hotel. To do this, be consistent with the colors and fonts that correspond to your graphic charter.
Include high-quality videos and photos to create a sense of excitement and to help travelers better picture themselves in your hotel. The video content is increasingly appreciated by users and converts more. With high-quality, professionally produced virtual tours and visuals of your rooms, facilities and services, you'll attract even more attention. 
Optimize users' mobile experience. When searching for accommodation, 70% of Internet users land on a hotel website on their mobile. Make sure you have a website with an adaptive design optimized for this type of format: fluid, intuitive navigation and a layout that automatically adapts to all devices. 
Secondly, the text part of your hotel website needs to be just as well thought-out. In fact, you need to create relevant content that attracts travelers: 
Write relevant, engaging and informative content to describe your rooms and the various facilities or services available to your guests. You can also write about the experiences guests can have at your hotel and in your destination, to give them a complete picture of their stay.
Display your value proposition with a clearly defined message. You need to communicate to travelers what makes your hotel more interesting than a competitor's, what makes it unique. 
Offer special deals. Your website is the ideal platform for highlighting unique offers and promotions. Whether it's promotions on certain stays, family offers or exclusive benefits, this will encourage users to book with you and adds value to booking from your website.
Collect testimonials and customer reviews. Displaying customer feedback on your site will reinforce visitors' trust in your establishment. Positive comments and reviews will help convince potential visitors to choose your hotel. 
By adopting a consistent and thoughtful approach, you can create an attractive and memorable online presence that reflects the essence of your hotel and its assets.

Use metasearch to boost your direct revenue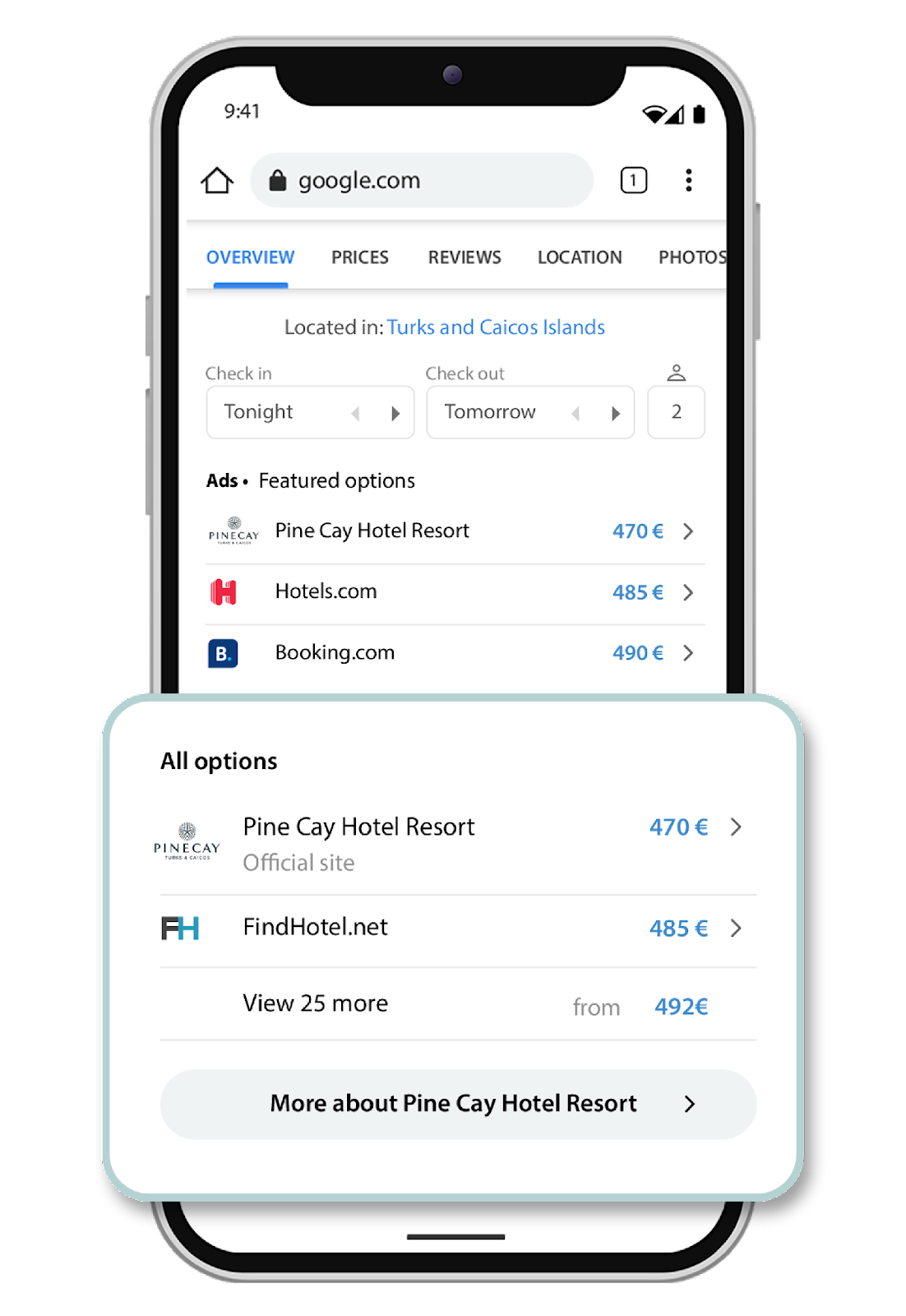 Metasearch are search platforms that enable travelers to compare online hotel offers and to book according to your availability in real time.
Going through a metasearch rather than an OTA will enable you to increase the direct share of your sales. What's more, 47% of travelers use metasearch to book their accommodation, so you've got everything to gain!
There are several different price comparison sites on which you can display your hotel. The main ones are Google, Trivago and Tripadvisor. With these, you'll be able to : 
Manage your rates and availability: update your rates and availability regularly, so that travelers can check in real time. 
Optimize your ads: adjust your bids and advertising budget to maximize the visibility of your ads in metasearch. Choose or combine cost-per-click or commission bidding models such as cost per acquisition according to seasonality or market, for example.
Encourage direct bookings: highlight your rates and benefits to encourage travelers looking for your hotel to book directly on your site rather than on an OTA's.
You can also launch metasearch visibility campaigns to complement your "classic" campaigns. We'll come back to this in the next section. 
By using metasearch, you can increase your online visibility and reach a wider audience, while generating more direct bookings for your hotel rooms.
Raise your hotel's profile
Last but not least, your hotel's popularity is essential to its successful marketing at the time of opening. It's all about gaining maximum hotel visibility to reach as many travelers as possible right from the start. 
Develop your press relations
Don't hesitate to develop your press relations: when opening your hotel, developing press relations plays an essential role in creating successful visibility. Press relations offer a strategic platform for communicating your hotel's unique story, distinctive features and offering to the media and the public. 
Write or have written concise, attractive press releases about the opening of your establishment, the services it offers and the positive impact it will have on your region/city. 
Then contact journalists to obtain optimum media coverage, so that as many people as possible can find out about your hotel. Indeed, by establishing strong links with journalists, bloggers and influencers, you can generate valuable media buzz, drawing attention to your establishment, its quality facilities and services, and its location.
An effective approach to press relations when opening a hotel can therefore help establish a solid reputation from the very first days.
Optimize your Google Business Profile
First of all, we recommend that you optimize your Google Business Profile. With a complete Google Business Profile, presenting all the precise information about your hotel (name, address, telephone number, opening hours, website, etc.) you'll attract up to 38% more attention from tourists. 
This is a key asset not to be overlooked in your strategy, as it will help you maximize your visibility and increase your direct bookings!
Launch metasearch visibility campaigns
As mentioned above, you can launch metasearch visibility campaigns using solutions such as Google Property Promotion Ads, Tripadvisor Sponsored Placement and Trivago Sponsored Listing. 
The aim is to place your hotel in a strategic position in a user's search results, such as "Hotel + destination", so as to maximize your visibility. 
This allows you to reach travelers who don't yet know your establishment but are looking for a hotel in your destination.
Work on your Search Engine Optimization (SEO)
To work on your Search Engine Optimization (SEO), you can optimize the textual and visual content of your website to improve its ranking on search engines. 
To do this, use relevant keywords in your content, have a fast and mobile-friendly website, visuals with alternative text, etc. 
In this way, you increase your chances of improving your position in the search results pages when a user makes a query, and increase your online visibility. 
Invest in Search Engine Advertising (SEA)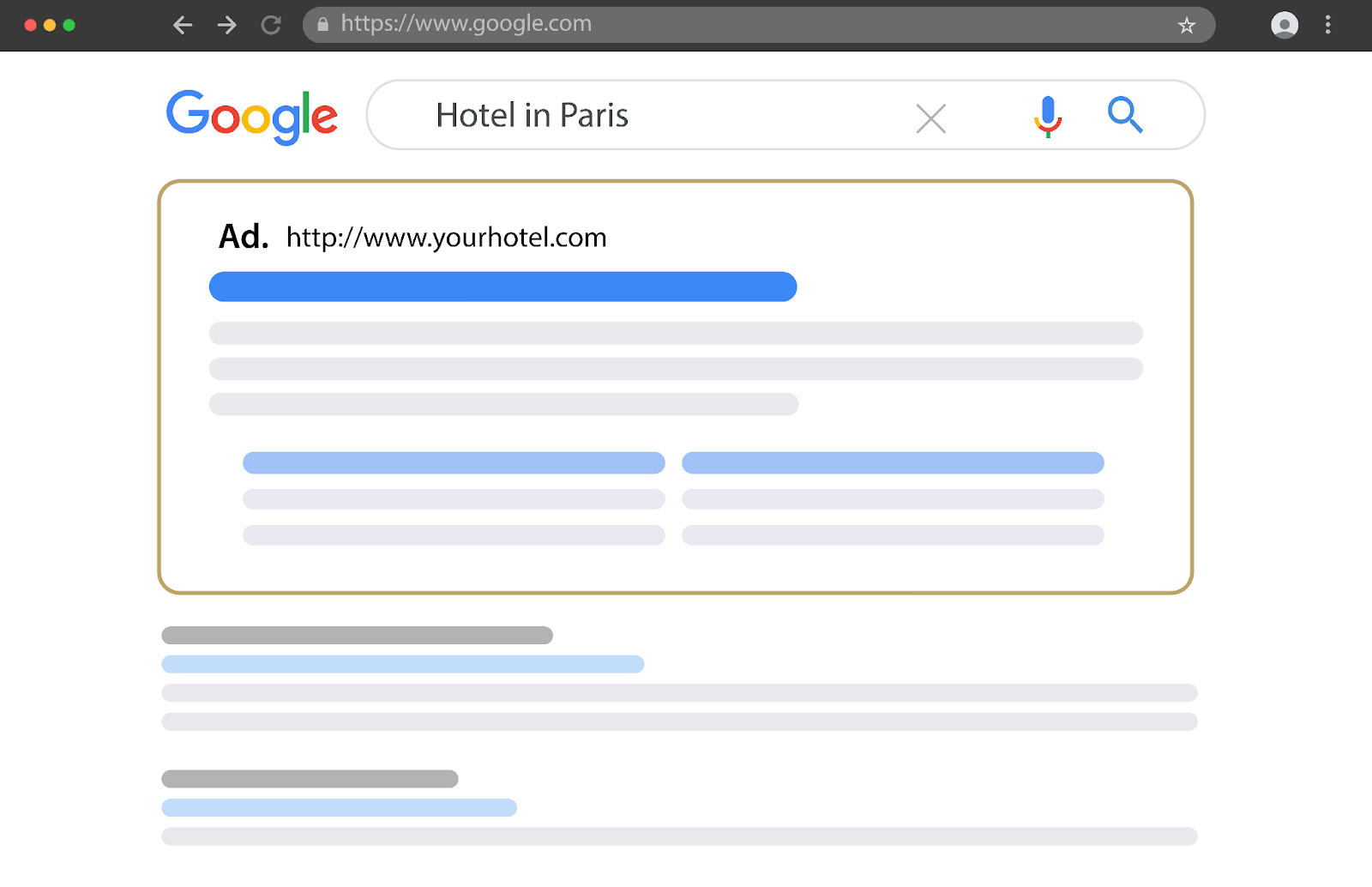 When it comes to Search Engine Advertising (SEA), define a budget that will enable you to bid on the most relevant keywords for your business: 
Brand protection: campaigns to protect your hotel's name against bids from competitors or OTAs. These campaigns are highly profitable, as they attract a qualified, actively searching audience. They involve bidding on keywords corresponding to your hotel's name and to your brand's restricted lexical field.
Generic: campaigns to acquire new customers by increasing awareness of your establishment in your destination and/or your attributes. You bid on broader keywords such as "Hotel Berlin" or "Hotel with Spa in Paris". This campaign enables you to appear at the top of search results when travelers are looking for their accommodation.
Be present on social platforms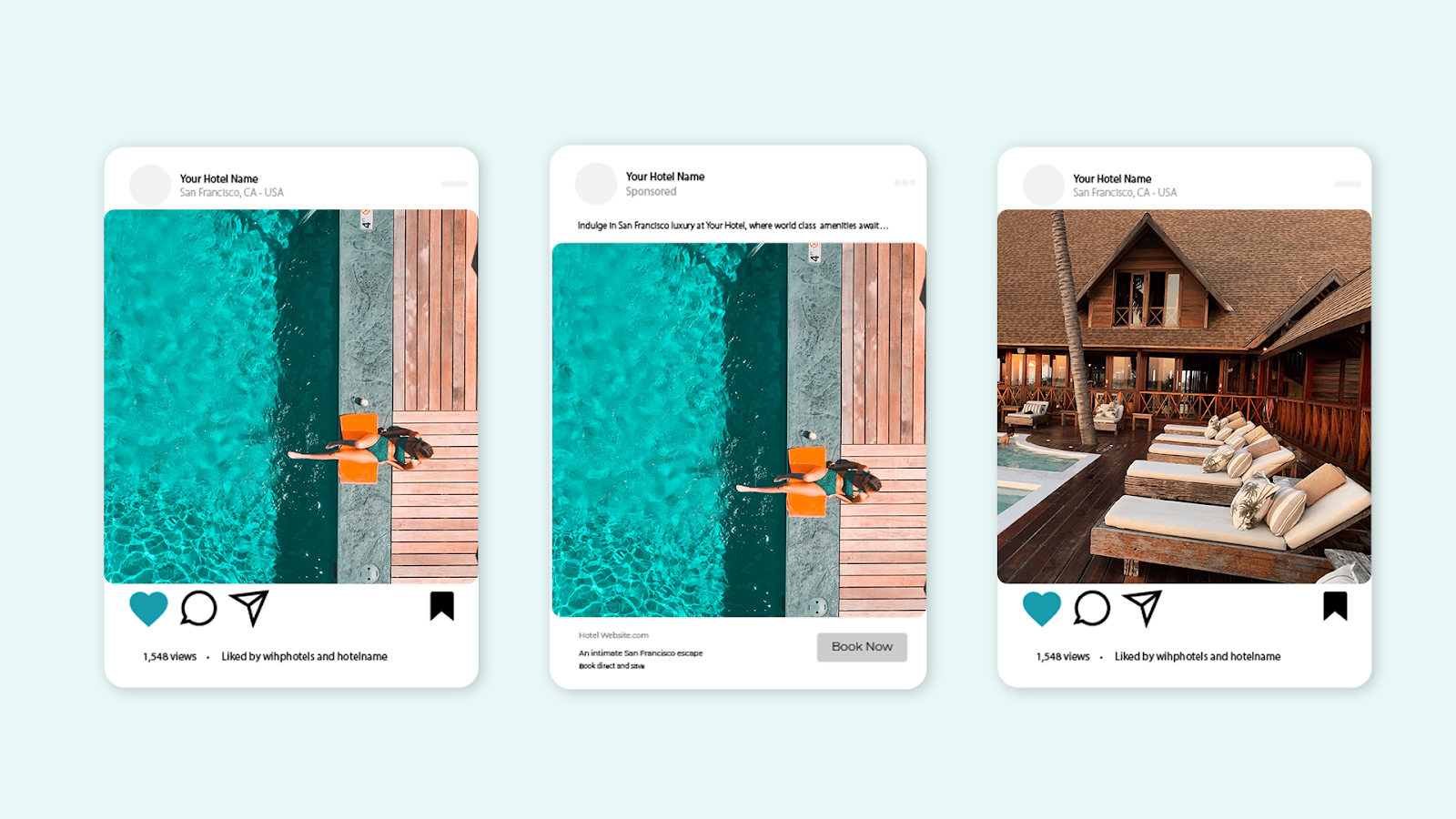 Finally, social media platforms, or social network advertising, are an excellent marketing tool for driving traffic directly to your website. 
It's one of the most appropriate formats for engaging your customers and potential customers, by regularly publishing fresh promotional and/or informative content. 
With the rise of social networking, this channel is becoming an essential part of any successful marketing strategy.
How can you measure your results and adjust your strategy? 
Once you've established and launched your strategy, it's a good idea to measure and analyze the impact of your marketing actions, so you can adjust your strategy and optimize your establishment's performance. 
Monitor results, customer feedback and website performance to optimize your marketing and sales efforts.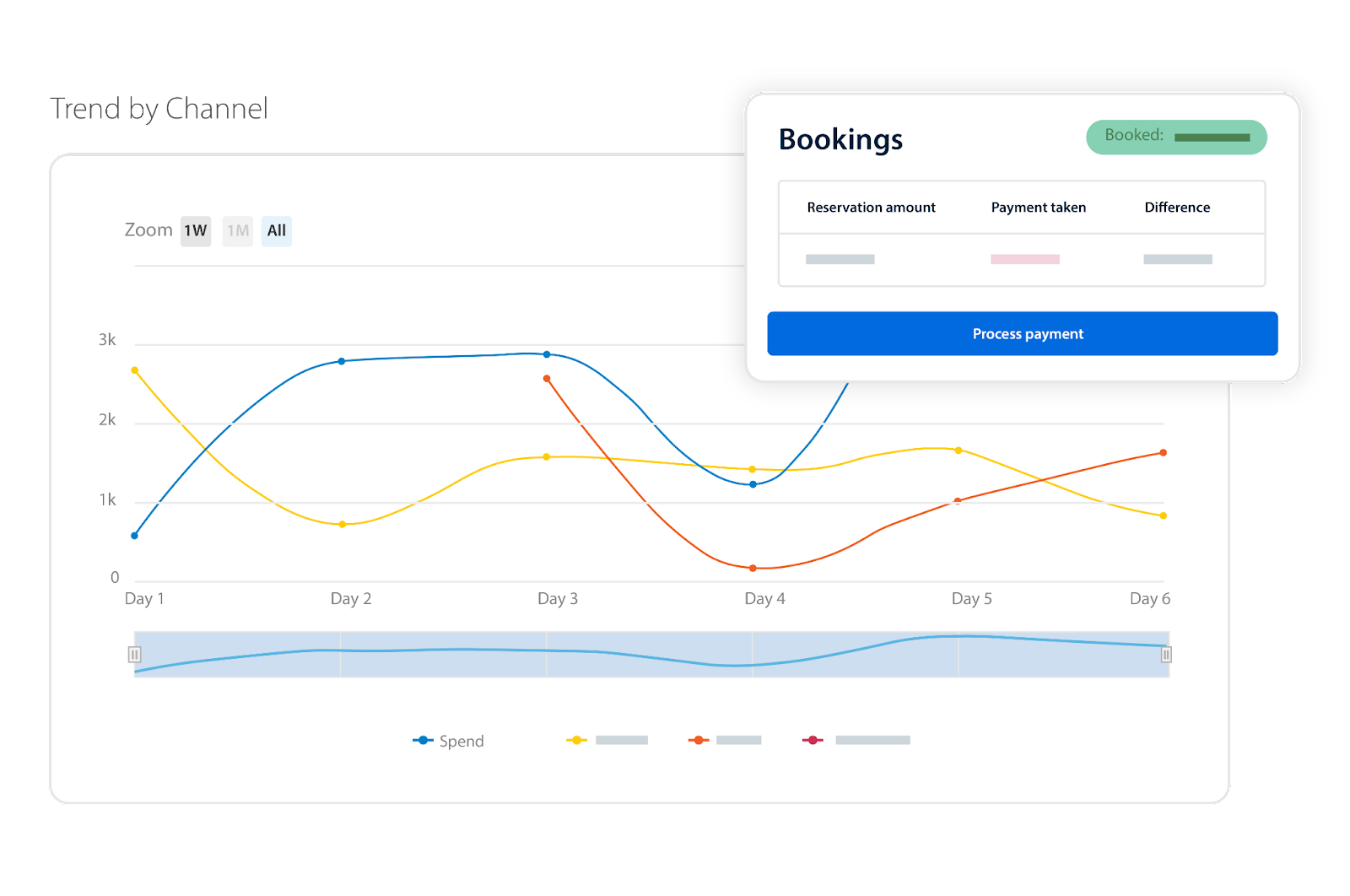 Collect and analyze your results
To begin with, set yourself specific, measurable, achievable, relevant and time-defined objectives (SMART objectives) for your marketing strategy: increase in occupancy rate, direct bookings, brand awareness, and so on.
In order to collect relevant data and track the results of your various campaigns and your website, you need to set up tracking tools such as Google Analytics 4 and hotel management software. 
You'll then have an overview of key performance indicators (KPIs), such as the number of reservations, your website's conversion rate, occupancy rate, sales per available room (RevPAR), and so on.
This will enable you to analyze your results and identify trends, strengths and weaknesses in your hotel marketing and sales strategy. Compare the data with your objectives.
Don't forget to regularly solicit feedback from your customers, either verbally or via online surveys and reviews. This feedback can provide valuable information on the customer experience and areas for improvement.
In addition, keep an eye on your competitors' marketing activities. Compare your performance with theirs and identify opportunities for improvement or areas where you might have a competitive advantage.
Adjust your acquisition strategy
Based on data analysis, adjust your hotel marketing strategy. Focus on the channels that work best, and make changes where necessary to improve results.
In addition, don't hesitate to test new ideas and approaches to see how they influence your results. This could include targeted advertising campaigns, special offers, local partnerships, etc.
Make sure your staff are well informed about how they can contribute to your hotel's marketing success. Exceptional customer service can play a major role in building customer loyalty and generating positive word-of-mouth.
Finally, the process of adjusting your marketing and sales strategy must be continuous. Regularly re-evaluate your objectives and performance measures to make sure you're on track to achieve your business goals.
By following these steps, you'll be able to analyze the results of your hotel marketing strategy and take the necessary steps to adjust it accordingly.
Conclusion 
Successfully marketing your hotel in preparation for its opening is an essential step in establishing a solid foundation and attracting guests to your hotel from the outset. 
All the points detailed above, such as metasearch, your website, SEO and social networking, will help you successfully market your new establishment to generate interest and reach a wide customer base. 
Invest time and resources in a solid acquisition and marketing strategy. With the strategic steps outlined above, you'll be able to create a positive image for your hotel and build lasting relationships with your (future) customers, helping to ensure the success of your new hotel business.
Our hotel digital marketing experts are here to help you achieve your online marketing goals,  contact us today !