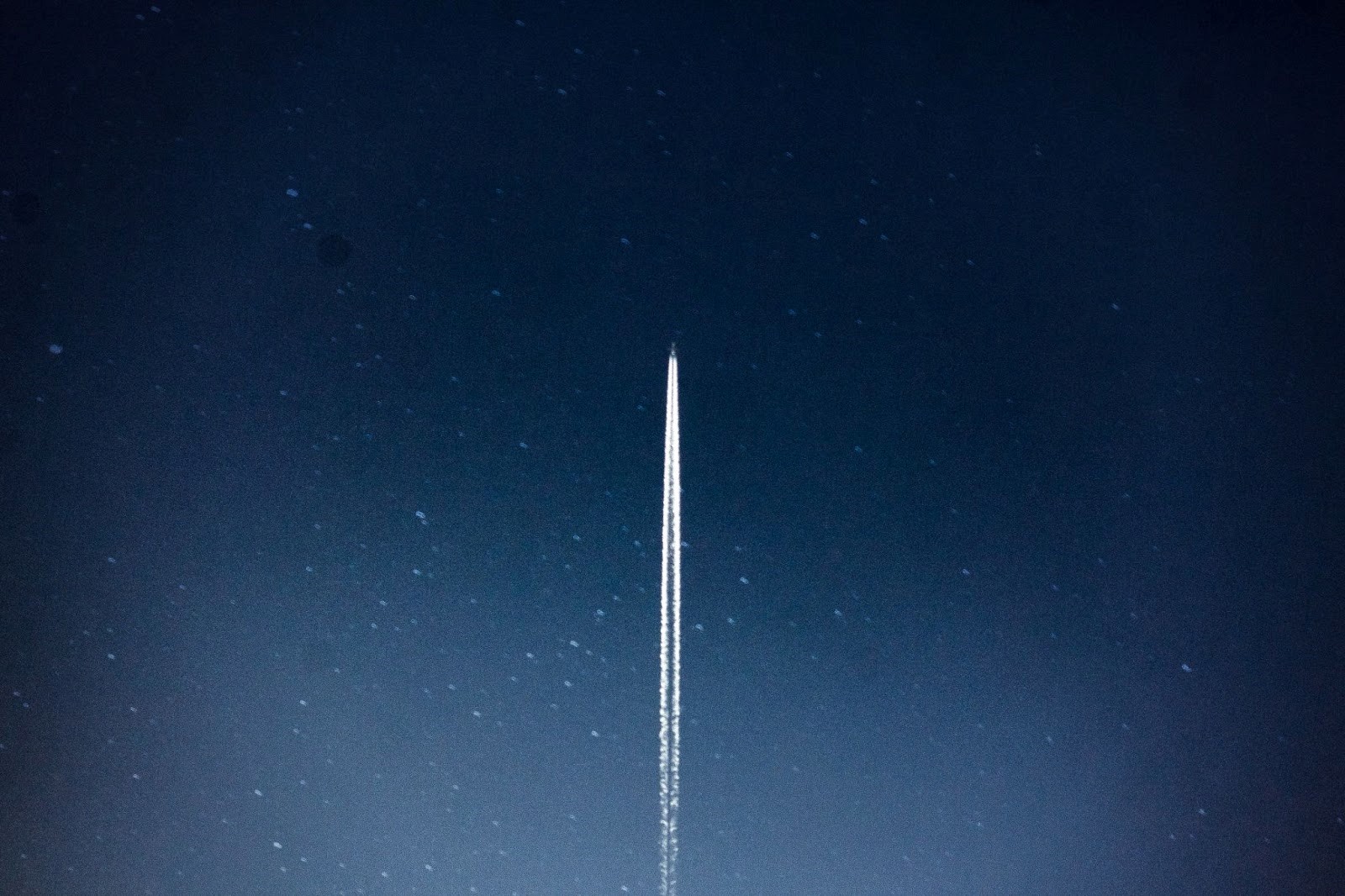 The evolution of metasearch in 2023
In 2023, demand for travel has never been higher. To make it easier for travelers to find the best deals and rates available from selected hotels, the major price comparison sites have updated their interfaces and bidding models in recent months. 
We detail for you what's changed so far in 2023 in the metasearch engines sphere, so you can fine-tune your advertising campaigns.
Enhanced user experience
New Google Hotel Search navigation interface on mobile
Google has launched a new hotel search navigation interface for Internet users. Hotel search can be time-consuming, especially as the first phase of the search is now mostly done on mobile.
That's why, in April 2023, Google launched an easier way to browse and discover hotels on mobile. For example, if a user searches for "Soho London hotel", they will have the new option of exploring each establishment as a slideshow.
From here, the traveler can browse photos of different hotels and get an idea of the experience that awaits them on site. With a single click, they can also save the hotel, get more details about the area or view a summary of what other travelers find remarkable about the establishment.
This is in line with the change in user experience and the growing use of mobile: 65% of current traffic is on mobile. This new interface is an opportunity to continue showcasing your establishment, and reinforces the need for your hotel photos to be up to date and of high quality, so that the first impression of your hotel is the right one.
New interface for the Tripadvisor Hotel Detail page
Tripadvisor has launched a new interface for their Hotel Detail page. This includes new features that enhance the experience for travelers and advertisers alike.
With the new version of the Tripadvisor's Hotel Detail page, users can now find all the information they need more quickly at the top of the page. The Hotel Detail page now displays three offers instead of just one, below the hotel images.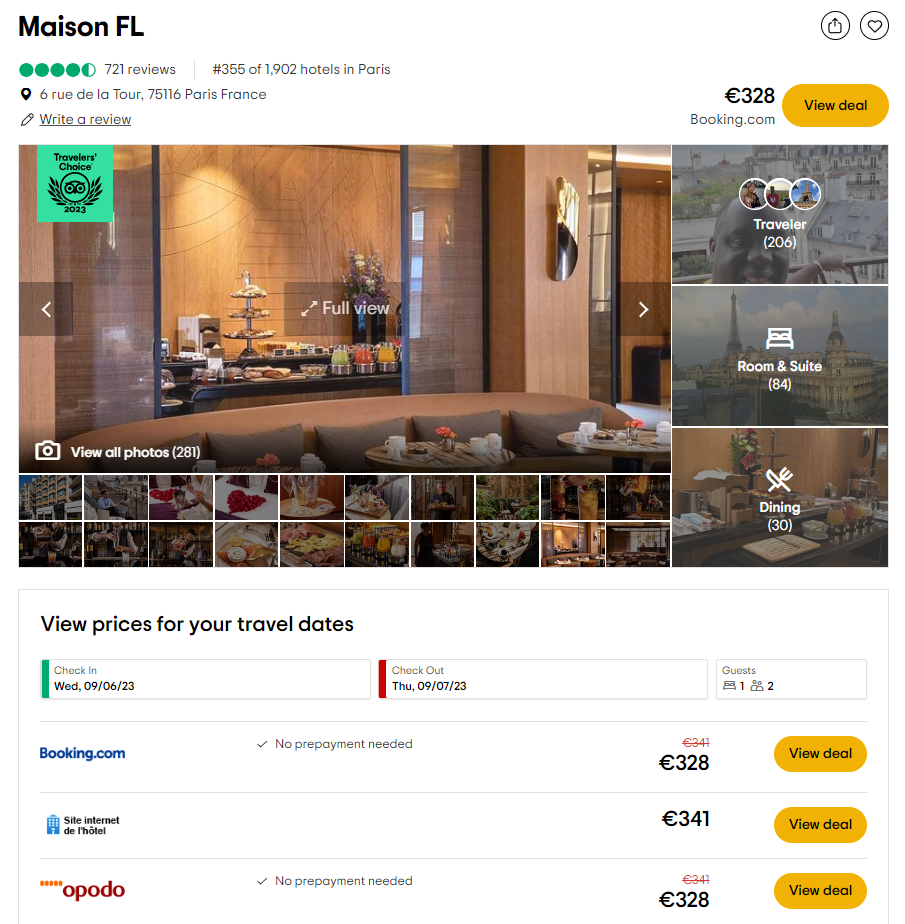 These offers can now include commercial terms such as "Fully refundable" or "No prepayment needed". Travelers can now easily compare rates on all three sites to determine which offer best suits their needs.
For advertisers, this update ensures optimal performance and a more balanced distribution of clicks among participating advertisers. In the past, a single advertiser often obtained the majority of advertising space. This increases the number of website visitors and improves ad rankings, while avoiding rapid increases in unqualified traffic due to the single ad.
New Marketing Text option in Tripadvisor Hotels
"Marketing Text" is a new feature allowing partners to advertise custom marketing text on the hotel list and details pages. Partners can now promote their unique selling points and campaigns to Tripadvisor users at a bucket level, enhancing their visibility and attracting more customers.
Here are the benefits for your hotel:
Enhanced Promotional Opportunities: By utilizing this feature, partners can effectively highlight their promotions, discounts, and exclusive deals, such as the "Black Friday Sale" or "Extra 3% with coupon code."
Improved Conversion Rate: The ability to display custom marketing text directly on listings helps partners capture user attention, leading to higher click-through rates (CTR) and increased conversions.
Targeted Advertising: Partners can control at a bucket level when and where their marketing text is displayed, ensuring their message reaches the right audience at the right time.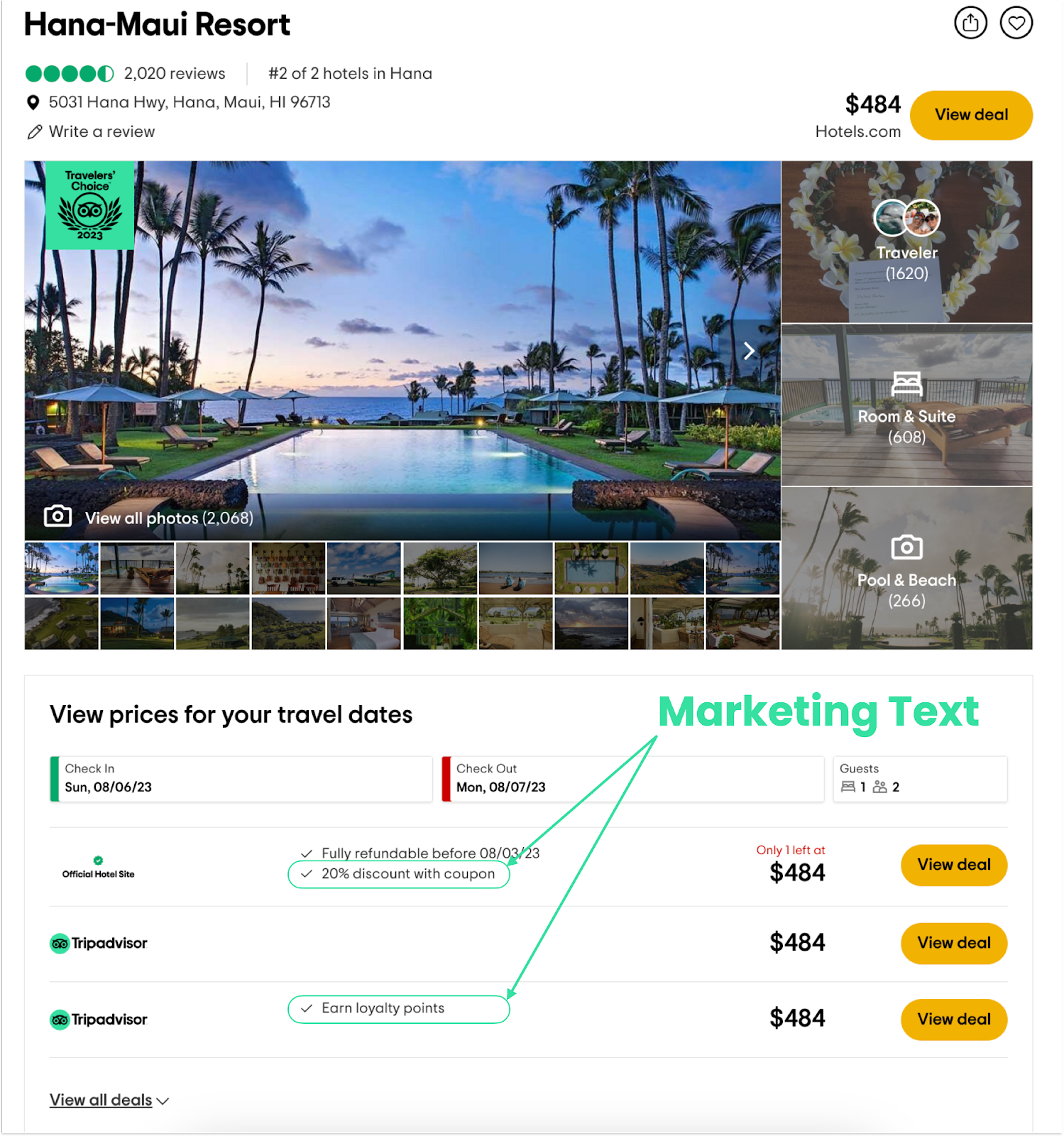 Please note that Marketing Text is always the last text slot after the "Fully refundable before [DATE]" or "No prepayment needed" text. This text is only visible in the chevron UI treatment (see above) and not with the text offers.
New bidding models
Trivago Free Booking Links
Trivago has launched its Free Booking Links for hotels! These are totally free links that enable independent hoteliers to promote their official website rates.
Trivago FBLs are currently available in Finland, France, Germany, Ireland, Italy, Spain, Sweden and the UK. Other markets are likely to open soon. 
Currently, only independent hotels with no active paid campaigns on Trivago can activate Free Booking Links. If you meet these criteria, the main benefits for your hotel are :
Get a new free tool to generate more direct revenue.
Stay competitive and reduce the share of OTAs (Online Travel Agencies) in your distribution and sales.
Gain autonomy in promoting your rates and your hotel's visibility.
Increase qualified traffic to your hotel website.
However, paid campaigns generate far more clicks and direct bookings. It is therefore preferable to activate paid campaigns rather than FBL campaigns.
Trivago net commission (WIHP Exclusive)

Trivago's net commission bidding method, or net Cost Per Acquisition, is available only on Meta I/O!
Activating your net CPA campaigns gives you extra security in the direct distribution of your hotel, to optimize the performance of your hotel's online distribution. 
The net CPA model allows you to set a commission amount with Trivago, and the algorithm automatically adjusts the positioning of your rate and, depending on the commission rate, optimizes the bid. 
Commissions due are net of cancellations and no-shows, meaning you'll only be charged actual stays and after your customers have departed. This guarantees you a low distribution cost and return on ad spend (ROAS).
Performance tracking type update
First-party tracking
In order to comply with the latest RGPD laws on first-party tracking, which will come into force in January 2024, and to protect consumer privacy, search engines like Google, are gradually phasing out tracking internet users' activity using third-party cookies. 
You must therefore use "first-party" tracking to record your web users' activity and accurately track the performance of your advertising campaigns.
First-party cookies are stored directly by the website (or domain) you visit. They enable the website to collect analysis data, memorize language settings and execute the functionalities necessary for a better user experience.
For example, a first-party cookie may be a user's connection to their account on an e-commerce site. The web browser stores this data file on the user's computer, under the domain "websitename.com". If the user blocks first-party cookies, they will have to log in each time they visit the site, and the shopping cart will be reset after each item added.
At WIHP, to continue providing our customers with a quality service, we have updated our tracking pixels, notably on our Meta I/O platform for managing metasearch campaigns.
Conclusion 
The year 2023 has seen the evolution of hotel metasearch, with new features in three key areas: the user interface, bidding methods and tracking.
These advances make it easier for travelers to find attractive offers tailored to their needs, while hoteliers can optimize their visibility and direct revenue. 
With this constant evolution, price comparison websites continue to play an essential role in the hospitality industry, making it easier for travelers around the world to find and book hotels.
At WIHP, our experts can help you achieve your online sales objectives, contact us!