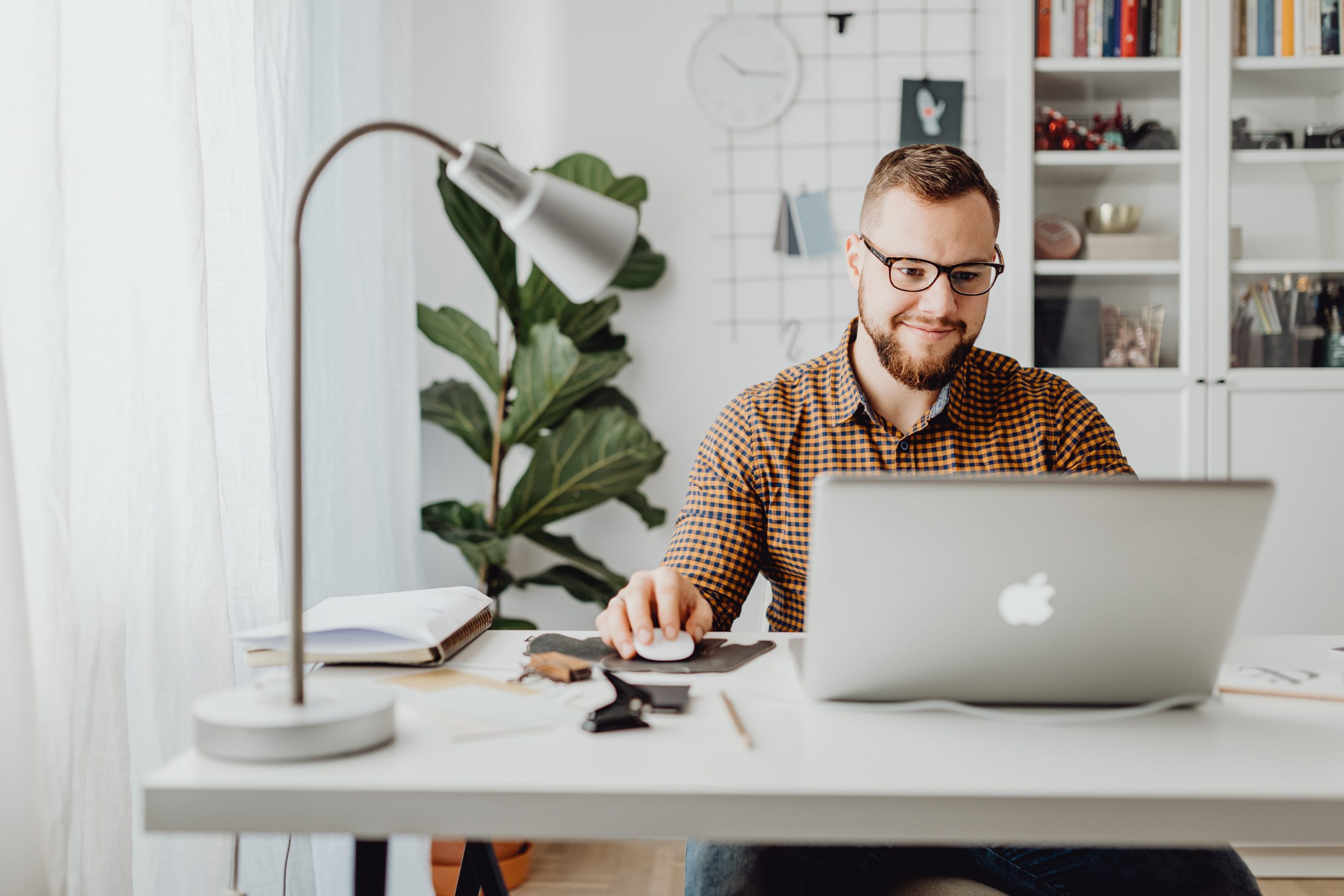 What are the 6 essentials for creating a successful hotel website?
Nowadays, Internet users are used to receiving personalized suggestions from their favorite platforms, be it for music, movies or social networks. Everything is done to take into account their lifestyle in order to offer them the content that best suits their tastes and interests. 
The same goes for the travel and tourism sector. OTAs are taking advantage of these personalization algorithms in order to provide the best offer to travelers looking for a stay or a hotel. 
To remain competitive with booking sites such as Expedia or Booking, we advise you to do the same and integrate personalization in your strategy to increase direct bookings. One of the key levers is to create a powerful website that is customized to what makes you unique and brings you closer to your target audience. This will allow you to reach a qualified audience and convert more customers to your hotel website.
The stakes of a hotel website
The website is an essential tool in the promotion and marketing of your hotel rooms. The stakes of a hotel website creation are all the more important as it is on this website that your entire digital distribution will be based. 
Indeed, it is online that your customers get information about your establishment and your services before booking a room or contacting you. However, Internet users are confronted with a plethora of hotel offers where every detail counts, hence the importance of choosing a quality hotel website creation agency to better sell online.
Moreover, creating your website is also an opportunity to strengthen the brand image of your establishment. It is about using your hotel website as a digital store to attract travelers and encourage them to book directly through your booking engine. 
Finally, having an efficient website is an integral part of your hotel's global marketing strategy to increase your direct revenues. Indeed, your email campaigns, your SEA campaigns (search engine advertising), your posts on social networks, your campaigns on metasearch or your display ads all converge on your website. It is the pillar of your digital distribution. 
Follow our tips below to get a successful hotel website and bypass the OTAs in your distribution strategy. 
The 6 essentials for creating a hotel website
High quality videos and photos of your establishment
For your visual content to seduce your website visitors, it must be of very high quality. Therefore, prefer photos and videos taken by a professional photographer and/or images and drawings made by an illustrator. 
Having high quality images greatly improves the user experience, while making the user want to book a room directly through your booking engine. The goal here is affective: to "make people love" your establishment thanks to photos that enhance your hotel.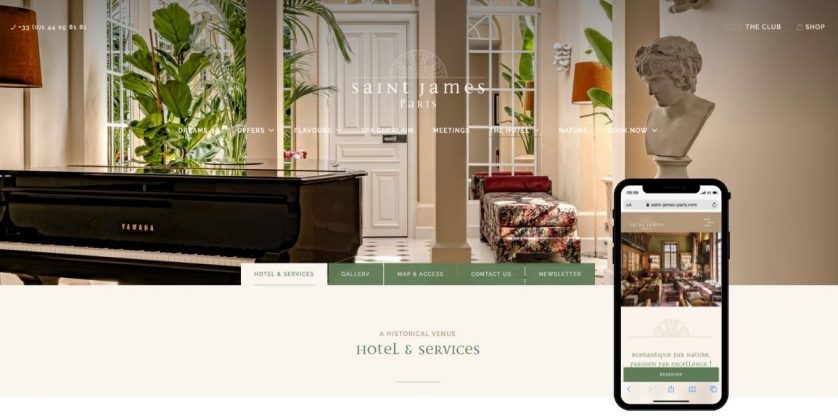 If you need additional photos quickly, you can also select professional photos from a specialized website such as Unsplash, Pexels or Shutterstock for example. However, make sure that the images you choose are copyright-free, especially for commercial purposes.
A unique and impactful storytelling
You must never forget that you are talking to your reader and not to one of your friends or to the administration. Therefore, you should logically adapt your speech and the wording of your website according to the people who will read it and your field of activity. 
Take advantage of textual content to tell your story and what makes your hotel unique. Text supports images in conveying emotions. Make sure your storytelling is well written and showcases your establishment. Don't hesitate to describe why one should book a room with you, detailing what distinguishes you from the competition. 
It is important to use a clear, precise, positive and punchy narrative to provoke emotions that will make your future customers want to book directly with you. Just as with images, the goal is emotional: your text must arouse the traveler's interest by focusing on its advantages, values and qualities.
A hotel website sleek and adaptive design
A design is a response to a problem or a goal and must be adapted to your positioning. Thus, the design of your website must be based on the typology of your hotel (business, leisure), your type of clientele (young, senior, upper class, etc.) and the experiences you offer (restaurant, spa, seminar, wine tourism, etc.).
Therefore, the design of your website should reflect your brand image and match the target audience you want to reach. 
It is recommended to favor a sleek design to minimize visual noise, so as not to hinder the booking process. This will make it easier for the user to understand the positioning of the hotel, the services available and the advantages of booking in your property.
You can be inspired by the websites of the Domaine de Verchant or Les Hortensias du Lac that we have created in their image.
A responsive design adds fluidity to a website so that it adapts to different devices. An adaptive design will go as far as modifying some fixed elements of the website to ensure a complete comfort on mobile devices. It allows you to optimize the performance and speed of the website on all mediums for your potential customers.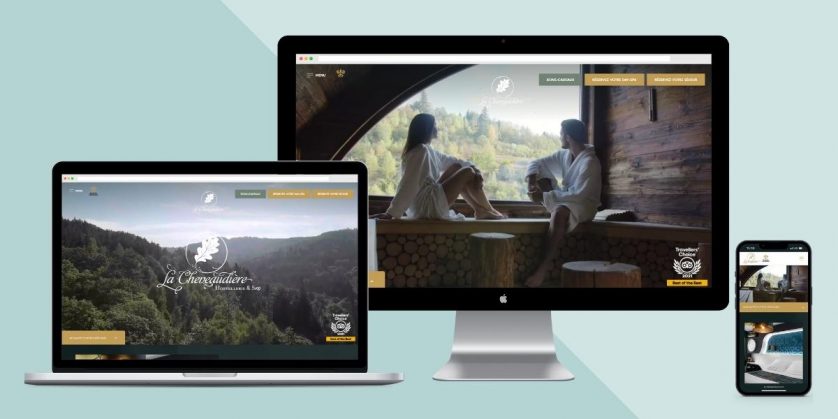 Make sure you have an adaptive design in order to reach Internet users on all screens and sell better on mobiles in particular. Mobile reading represents 60% of online traffic today and requires a website fully adapted for an optimal user experience. 
In short, associated with quality content, a polished, sleek and adaptive design contributes to the retention of visitors on your pages. Thus, they will be more likely to book directly on your hotel website. 
A fast hotel website with a fluid customer journey
Every second lost represents 20% less conversions on your website! The speed of your website is essential to keep visitors on your pages and convert more customers. 
Web hosting and media file optimization are two sources on which you can act to increase the speed of your website. WIHP uses Amazon Web Services solutions, which allow a better loading speed of your website and pages, worldwide. 
Furthermore, a fast website goes hand in hand with a smooth, user-centric customer journey. The booking process must be easy, intuitive and designed from the perspective of a traveler who wants to book a room. Otherwise, you will lose conversions on your website and ultimately direct revenue. 
Visible calls-to-action (CTAs)
The call-to-action is an essential element on a booking website. The CTA allows the visitor to take an action. It is an essential component that must respect several rules, such as a differentiating color, the use of an action verb, a limited number of words or a hover effect. 
On a hotel website, this is the "BOOK NOW" button that your customers will click on. The CTA can also highlight your online offers and stores or the reservation in your restaurant and spa for example. 
"OFFERS", "GIFT BOX" and "BOOK NOW" CTAs on the Le Cinq Codet hotel's website

CTAs as pictograms on the Lancaster hotel's website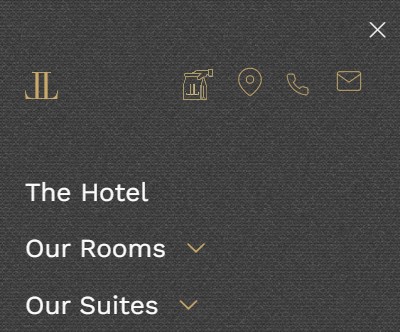 Whether it's via a pictogram or a short textual incentive, call-to-actions must be clear, accessible, and make the action they lead to understood at a glance.
The objective here is conative, i.e. "to make the visitor act", to entice them to carry out the desired action, such as a reservation in your hotel.
The booking engine
Your hotel website must be linked to a booking engine for your rooms to be bookable online. Thus, once your customer has clicked on the "Book Now" CTA, he will be able to place a reservation directly through your website booking engine.
Today, there are more and more integrations between websites and booking engines that allow to communicate price and availability information earlier in the booking process. 
Several booking engines provide connection functionalities between the booking engine and the website. They add value for the users, with an increased price transparency: 
Display of your today's rates: visitors to your website get the information they need right away. 
Overview of your prices per room for the selected dates: an information input to help your customers make the best decision, that of booking!
Dynamic price calendar: travelers with flexible dates can see all your rates at a glance.
Overview of rates per room on selected dates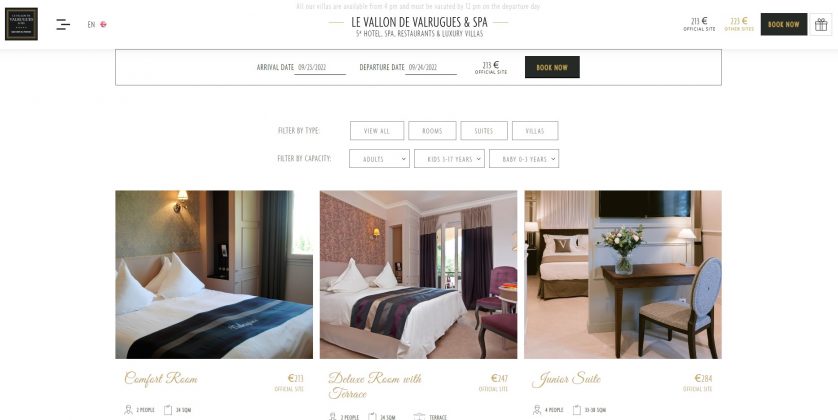 Dynamic price calendar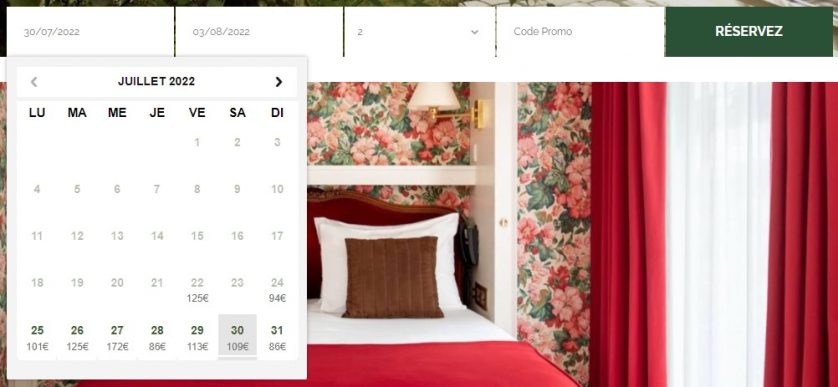 So, a booking engine is essential to generate direct bookings. There are several of them on the market, it's up to you to choose the one that best suits the needs of your establishment and your business.
Conclusion
The implementation of these key elements will ensure that your hotel website is efficient, attractive and functional. 
The stakes linked to your website are therefore very important for your hotel's turnover. To enhance your establishment, improve traffic and conversion of visitors into customers and increase your direct revenues, entrust your hotel website creation to a specialized agency that will advise you in the process of creating your website. Our team of hotel marketing specialists is at your disposal to assist you with your hotel distribution projects. Contact us to obtain the guidance you need to create your website.